Choose a partner for your business that never gives up, that keeps challenging and is always improving. Whether your starting out or expanding your fleet, let our business look after yours.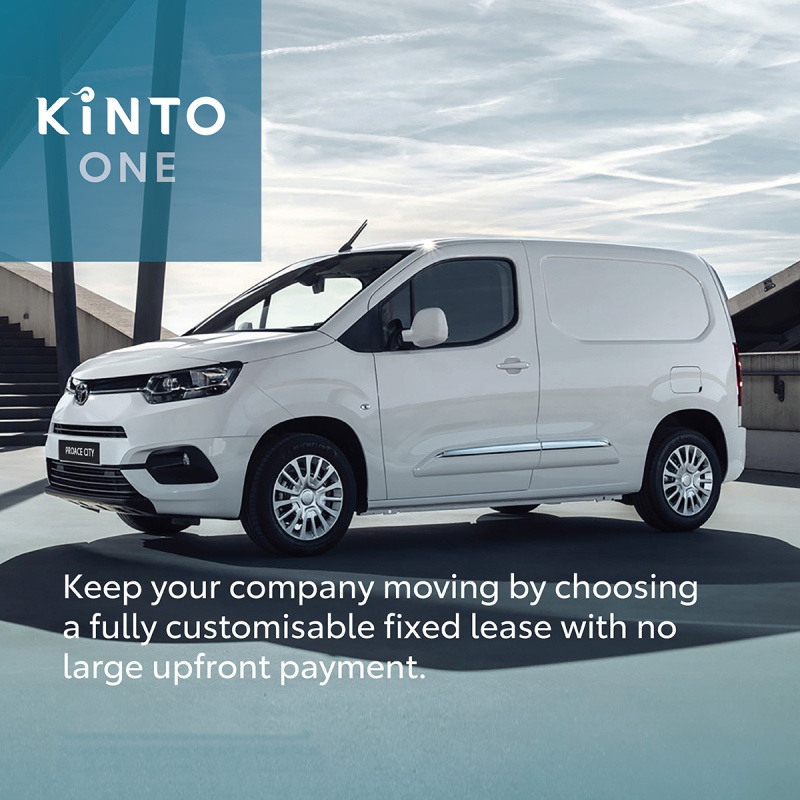 Kinto One Leasing
KINTO One is the new all-inclusive lease solution from Toyota Financial Services available to Sole Traders, Partnerships, SMEs and Limited Companies, that gives you all the benefits of driving a new vehicle, without having to own one.
Benefits of Kinto One
Minimal outlay. You can have immediate use of a van for just three upfront monthly payments. Where standard HP requires a minimum 23% deposit.
Fit-out costs can be built into an operational lease. i.e., Tow bar/van shelving etc, can be built into the monthly payment plan.
No servicing costs, tyre replacement costs, or even motor tax costs to pay. Services are covered by the monthly rental.
None of the financial risk that vehicle or fleet ownership can bring. There is no depreciation to worry about.
More tax efficient than vehicle or fleet ownership. Operational Lease Rentals for Commercials can be fully offset against taxable income/profits.
Costs become fixed rather than variable. The only variables remaining are insurance and fuel costs.
Capital is not tied up in non-income earning assets. This is another accounting benefit which improves your financial picture, allowing you to use precious capital elsewhere.
PROACE CITY from €18,305
Moves like a lightweight, punches like a heavyweight
With three body styles and 2 wheel-base lengths, PROACE CITY can accommodate your business with ease. With a generous capacity of up to 3.7m³ on short versions and up to 4.3m³ on long, PROACE CITY can also accept lengths of up to 3.4m when combined with the Smart Cargo system.
THE NEW PROACE from €24,700
Features that meet your needs
Whatever the task, the PROACE includes all the features you need to get the job done.
LAND CRUISER COMMERCIAL from €46,055
LAND CRUISER: unrivalled strength, legendary character.
From crawling through a river, to descending a rocky track - the Land Cruiser's ability to overcome the roughest off-road terrain and bring you back safely is legendary. No other SUV can offer it's unique combination of on- and off-road performance.
Hilux from €29,310
Tougher than ever
Understanding the legend
Known for its ability to handle all kinds of tough terrain – including the North Pole, South Pole and the Dakar Rally – the Hilux has been the go-to vehicle if you're in the market for a powerful workhorse.
Its indestructible reputation has been built over seven generations of constant development and testing in the harshest of topographies...